I am Doing This Every Day
I love these little QiGong exercises, they are quick and easy to do.
I always feel more relaxed and focused afterwards.
It is a great way to meditate while standing up. They also help to alkalize the body, just like any form of gentle exercise.
Anything that involves deep breathing can help the body get rid of excess acid through the breathing out of carbon dioxide.
Clearing the Negative Qi, Qigong Technique
Goldilocks Exercise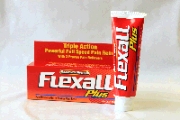 Flexall Plus Max Strength 4 oz.
Pain relieving gel in an
Aloe Vera Base.
Triple Action with
3 proven pain relievers.
Exercising too vigorously can cause a build up of lactic acid in the body. This is usually temporary though. Of course being a couch potato is no good. QiGong is the "just right" exercise for many. Sometimes people with chronic pain issues can do QiGong, when other exercises don't work for them. Be sure to talk to your doctor, if you have issues.
I am trying to make a daily habit of doing a bit of QiGong exercise every day. The movements don't take very much time and I enjoy doing them. It's like a mind-body workout.
The movement in this video is designed to get rid of negative energy. If you have stress, worry, unforgiveness or painful emotions, this movement can help get rid of those. It's great for an internal emotional house cleaning.
If you enjoyed this video, please use the fancy buttons below to share with friends. Also, we love to hear your comments!