Best Health Food on the Planet?
Sprouts are a nutrition powerhouse.
The sprouting process makes the nutrients in the sprout more bio-available.
This means you can digest, absorb and assimilate the nutrients more easily.
Sprouting also makes seeds more alkaline.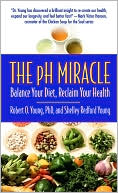 Robert O. Young, Ph.D., D.Sc.,
is a nationally
renowned microbiologist and nutritionist,
who speaks to audience around the world
on health and wellness.
Shelley Redford Young is a licensed massage
therapist and the chef behind the recipes in
The pH Miracle.
Buy from Barnes and Noble
Another great thing about sprouts,
is they contain naturally occurring enzymes.
Perhaps best of all they are inexpensive. You can pick up a package of sprouts at most grocery stores for a buck or two. If that's not good enough, you can grow them yourself. Growing sprouts yourself is they best way to ensure that they are fresh and have peak nutritional value.  Just do a search for "sprout" on this site and you can find several videos on how to grow sprouts.
Other Types of Sprouts
Be sure to check out other types of sprouts besides the common, alfalfa and mung bean sprouts.
Broccoli sprouts
Chickpea sprouts
Green lentil sprouts
Sesame sprouts
Sunflower sprouts
Buckwheat sprouts
And more!!
Sprouts are a great alkaline food and are a good part of an alkaline diet plan.
I would love to hear about sprouting techniques and recipes. Please use the comment box below to share with all, thanks!