I always like to include a high percentage of raw foods in my diet.
In this video, this lady shares her grocery shopping list of raw foods.
You can see there are a lot of foods to choose from for the raw foods advocate.
I would love to hear about your favorite raw food choices. Please use the comment box below.
RAW VEGAN FOOD ~ WHAT DO I EAT? ~ MY GROCERY LIST ~ Vid#26
[pro-player]http://www.youtube.com/watch?v=oZ2wRVQSIAM[/pro-player]
Some of my personal favorite Raw Foods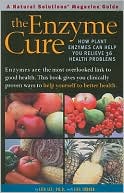 The Enzyme Cure
Lita Lee, With Lisa Turner, Paperback,Series: Natural Solutions'  Magazine Guides, English-language edition, Pages:296, Pub by Square One Publishers.
Buy from Barnes & Noble
Organic greens, like kale,
Avocados
Garlic
Carrots
Cucumber
Apples
Pineapple
Almonds
Flax seeds
Herbs and spices
Sprouted buckwheat
Coconut
I'm not a 100% raw food person, but I do like to eat a very high percentage of raw foods in my diet. I can definitely feel a difference in energy levels, both mentally and physically.
Raw foods are rich in natural enzymes, cooking and heating foods, destroys enzymes.
I like to take enzyme supplements at every meal, raw or not to help with digestion. If I eat a large meal, with lots of cooked foods, (think Thanksgiving) then I take extra enzymes.